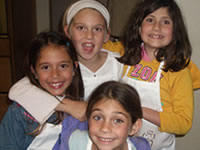 At Chabad Community Hebrew School, we welcome every Jewish child regardless of background or affiliation. Our goal is to make learning interesting, exciting and stimulating through a hands-on approach. The basic philosophy behind our program is that children learn best by doing. The activities are designed to help children embrace their Jewish roots and gain a true sense of Jewish pride while learning about the world, and values through hands-on education and active involvement.
"Tell me I forget. Show me I remember.
Involve me I understand."
Children, in grades Kindergarten through 6th grade, acquire a broad knowledge of Judaism through a motivating and challenging venue. Our students gain an appreciation for the joys, values and traditions of our heritage as it is vividly brought to life by the dedicated and enthusiastic teachers whose creativity and dynamism make every lesson a unique learning experience.
At Chabad our goal is simple: We want our students to view Judaism in an intelligent, relevant and upbeat light. By year's end, along with the Aleph-Bet, Holiday learning and Hebrew literacy, your child will have developed a deep love and appreciation for their precious heritage, imbuing their every day with a sense of pride and purpose.
Register today online, call Rochi at 952.929.9922 or email Rochi@ChabadMinneapolis.com